The wait for NEW music over!  
Faith Head's new single "When the Dominos Fall" will be available worldwide on May 14th on all major digital services. The new single is the first collaboration featuring the band's new lineup. This is first of new music coming from Faith Head's forthcoming album in 2021.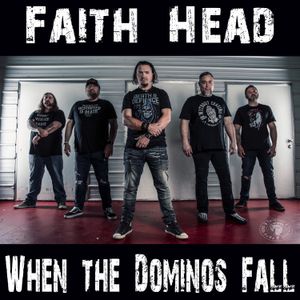 You can download the song on Faith Head's BandCamp site early on May 7th or you can get it for FREE on the 14th by signing up on band's mailing list! 
Echoing the band's Southern Metal roots with the clever riffs of guitarist Brian Montgomery and the bluesy, slide guitar work of Donny Raines, the band assaults your audio senses with range of dynamic grooves and melodies. Drummer Dale Adams pushes the opening riff with a shuffle groove while bassist Patrick Shipley lays down a low-end wave that carries the melody from beginning to end. Laced throughout the song, the soulful, angsty voice of vocalist Adam Reed weaves between the heavy riffs.  
More new music is coming so you won't have to wait much longer! 
Recorded at Breaker 17 Studio, Ft. Oglethorpe, GA USA Engineered & Mastered by Andrew Preavett  
Photo by Adrienne Beacco