Hey #FaithHeads .. 
Who is ready to rock the 'Nooga with our friends Disciple, The Protest, idle threat, Meadows and Against the Giants on Friday, October 28th at City Church of Chattanooga! The second annual Blood & Fire Festival is back with this great line up for 2022.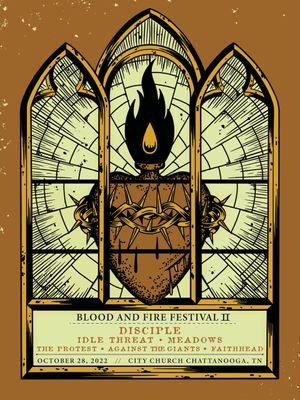 Tickets are on sale NOW! Buy 5 tickets or more and you get a discount to $20 each! Youth groups, small groups - take advantage of the savings. Or wait and pay $28 at the door! 
This ain't your soccer mom CCM festival - this is the Blood and Fire Festival right here in our hometown. Come out and support #christianrock #christianmetal because you don't want to miss this show! 
Click on the link to buy tickets NOW!
https://www.itickets.com/events/467031
For more information, you click on this link.
We hope to see you all from the stage,
Faith Head