Hey Faith Heads,
We've been hard at work in the studio at Breaker 17. We've completed two new songs for our upcoming album. If you come see us on tour next week, you will get to hear them both. 
Our next single will be "Splinter (in the Eye)" which is hard and heavy groove metal tune that will certainly nail you between the eyes.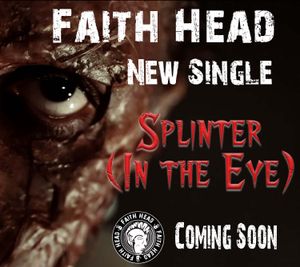 You can download this single early on BandCamp on May 20th.
https://faithhead.bandcamp.com/
Or you can wait until June 10th and listen to it worldwide where you listen to new music!
https://songwhip.com/faith-head
We hope you get to hear live on the road next week. We will be performing in many new places. Please come by and see us. We'd love to see you all from the stage!
Adam, Brian, Dale & PFunk