Hey Faith Heads ..
We hope this message finds you well. We wanted to send out an update tour flyer since there has been a couple of changes.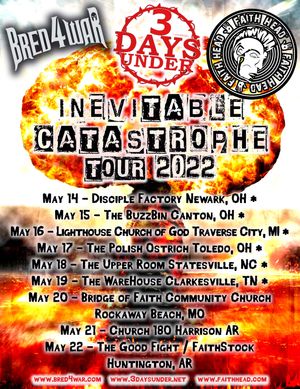 Our last show on the tour is in Clarkesville, TN but please continue to support our brothers in Bred 4 War and 3 Days Under as they finish their trek into the Midwest. We'd appreciate your support by going to our website and purchasing some swag in our merch store or you can make a tax-deductible donation via our giving portal. 
We have not a clue what gas prices are going to be like once we finally hit the road. As always, we appreciate your support and hope to see you from the stage soon.
Adam, Brian, Dale and PFunk